Laura Riding
Laura (Riding) Jackson
"A model of literary biography-reasonable, sensible, informed, well- paced." – Los Angeles Times
In Extremis
The Life of Laura Riding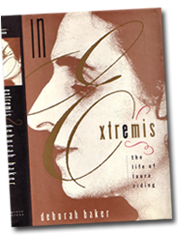 Shortlisted for the 1994 Pulitzer Prize in Biography.
The first major biography of one of the most provocative, puzzling, and influential figures in British-American literary history. In her poetry, fiction, essays, and public statements, Laura Riding, the author of twenty-three books, tackled feminism, communism, sexuality, Freud, language and belief.
In her intimate relationships she was at the center of a circle of friends and artists whose activity she both inspired and often controlled. Among these writers were Hart Crane, Gertrude Stein, Edmund Wilson, Malcolm Cowley, Allen Tate, and Robert Penn Warren.
During her long association with Robert Graves in Cairo, London and Mallorca, she watched over his most productive period before abruptly disappearing from the literary scene.
The last fifty years of her life she retreated to the swamps and orange groves of Florida to write and rewrite an epic manifesto on language.
478 pages
Grove Press (US)
ISBN: 0802113648
Price: $30.00
Hamish Hamilton (UK)
ISBN-10: 024112834X
ISBN-13: 978-0241128343
Price: £25.00